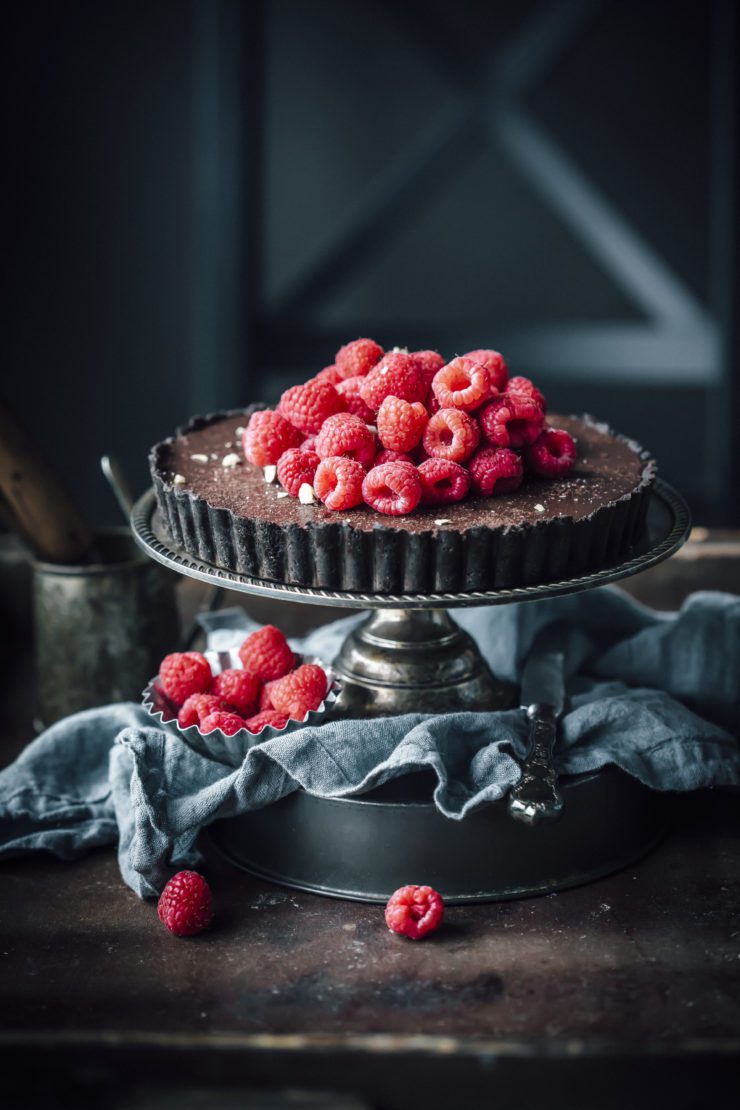 Like it or not, desserts and dishes go hand in hand. If I could show you the pile of large and small dishes in my kitchen every day, it'll not make a pretty sight at all.  Mixing bowls, baking pans, trays, measuring jug, sieves, spatulas, cake stands, plates and so on..Phew! Multiply that into 2 recipes every day for Christmas during the last quarter and you'll have to reserve an hour in the day to just do dishes and clean. That's why I love simple recipes, with fewer ingredients and lesser equipment. Plus the added bonus of being make-ahead. Win win!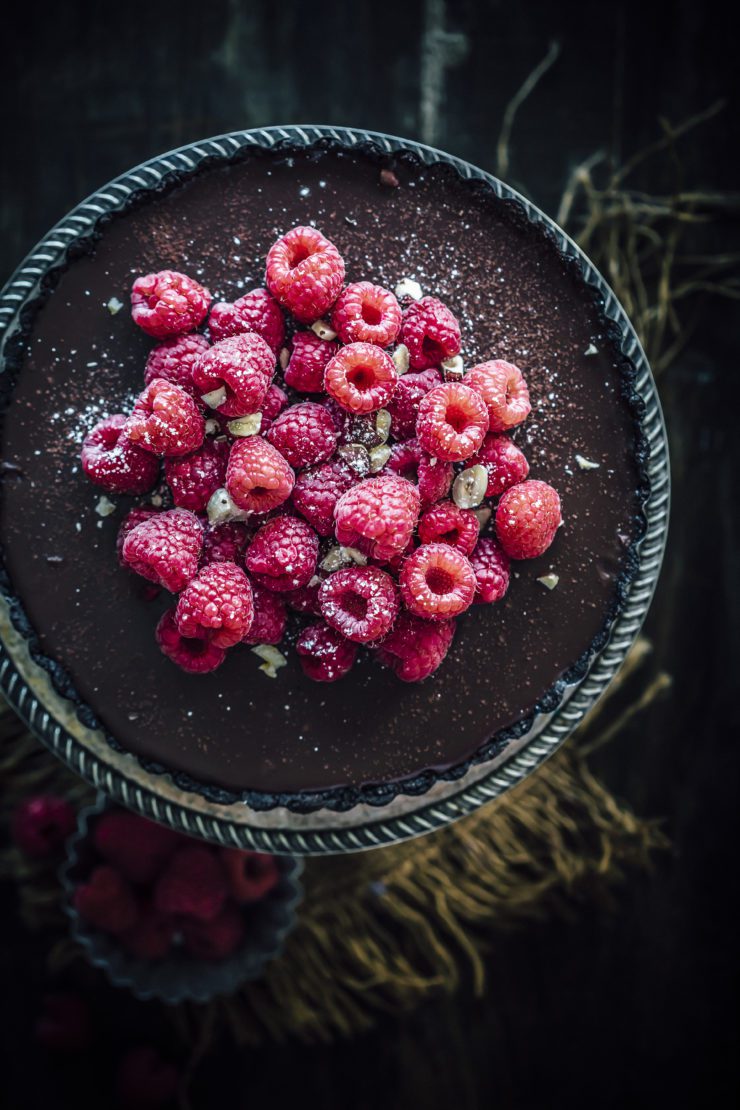 This tart is phenomenal! It gives your guests the impression that you've spent a great deal of time in making it while it actually is pretty easy. And it does taste like Heaven. A tart made of an Oreo crust and filled with chocolate ganache and topped with raspberries and hazelnuts can only be blow-your-mind kind of good, right?  A good quality chocolate can elevate it even further.  Feel free to experiment with flavoured chocolates though I really like it as it is. Classic chocolate and raspberries…Oh so amazing!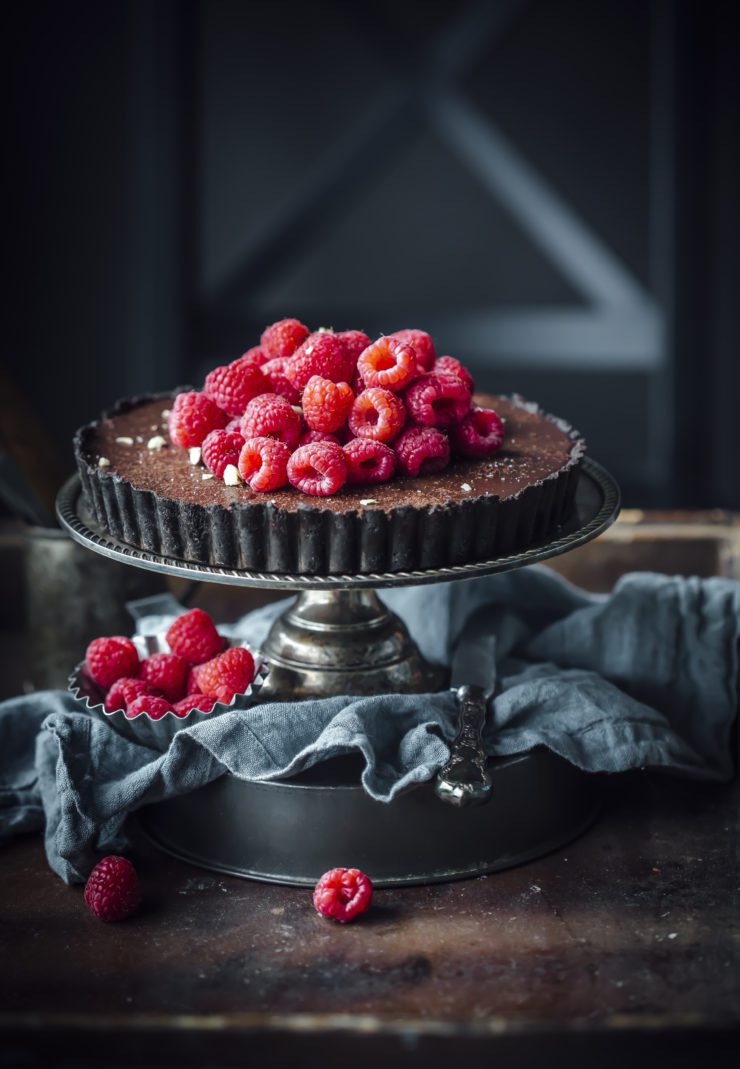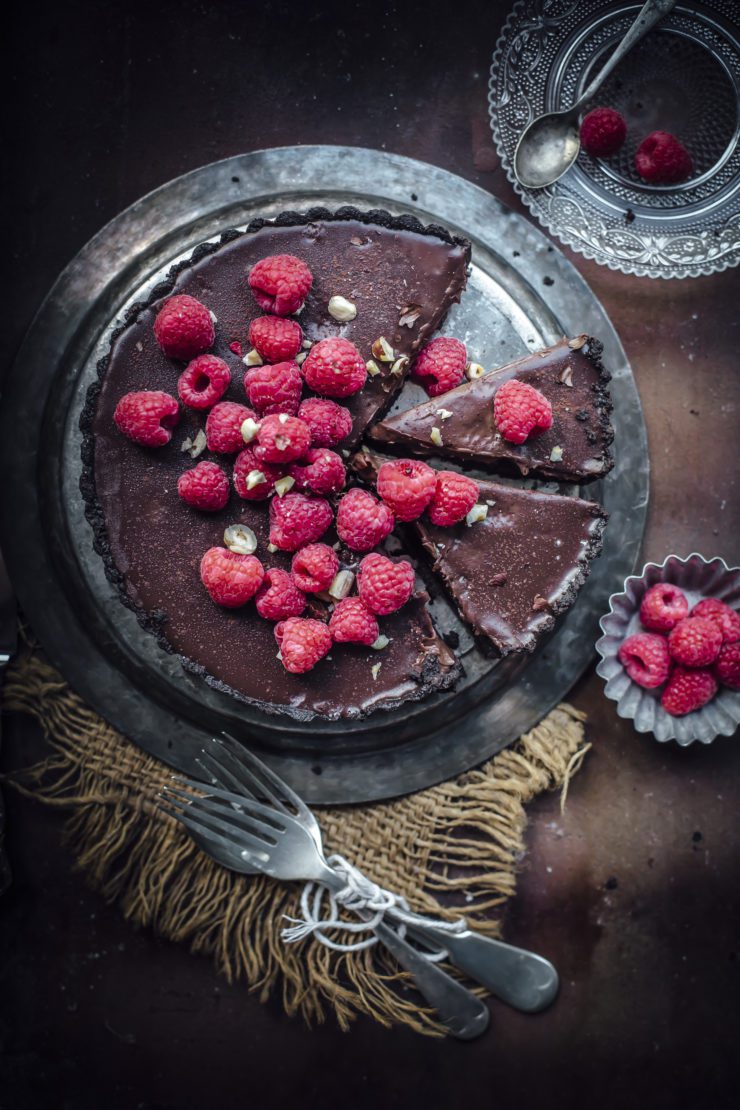 4 Ingredient No Bake Chocolate Tart
Makes an 8 inch round tart
2 X 137 g packs Oreo Cookies (or any other chocolate cookie)
150 g unsalted butter, divided
350 g dark chocolate (not bittersweet), roughly chopped
250 ml heavy cream
Fresh raspberries, to serve
Roasted Hazelnuts (or any other nut), to serve
Melt 100 g of butter in short bursts in the microwave (or stove). Process cookies in a food processor until fine crumbs form. Add the melted butter and mix till well blended.
Press the cookie mixture into the bottom and edges of an 8 inch fluted tart pan with a removable base. Use the back of a spoon (and your fingers where necessary) to evenly spread out into a neat tart crust. Place the tart pan onto a plate (this makes it easier to move the tart in and out of the fridge). Refrigerate for 30 minutes.
To make the filling, in a medium saucepan, place the cream and remaining butter (50 g) together and bring to a gentle boil (do not boil). Remove from heat. Add the chopped chocolate and leave aside. After 2-3 minutes, stir mixture gradually till chocolate is fully melted and well blended. If there are still some lumps of chocolate left, place saucepan on low heat again for a few seconds to warm up and stir again.
Cool mixture for about 5 minutes. Pour onto the prepared crust. Refrigerate for 6 hours, preferably overnight. Best served chilled with fresh berries.