I think it's important for everyone to have a great, reliable and easy chocolate cake recipe in their kitty that they can pull out when the situation calls for it. There are always birthdays and special days when you just want to skip the bakery and bake your loved ones a homemade cake. Or maybe a chocolate craving or just something nice for the weekend. This one is my go to chocolate cake. I visit it time and again, adjust the weights according to the number of servings required and tweak the recipe a little bit depending on the flavors I am looking for.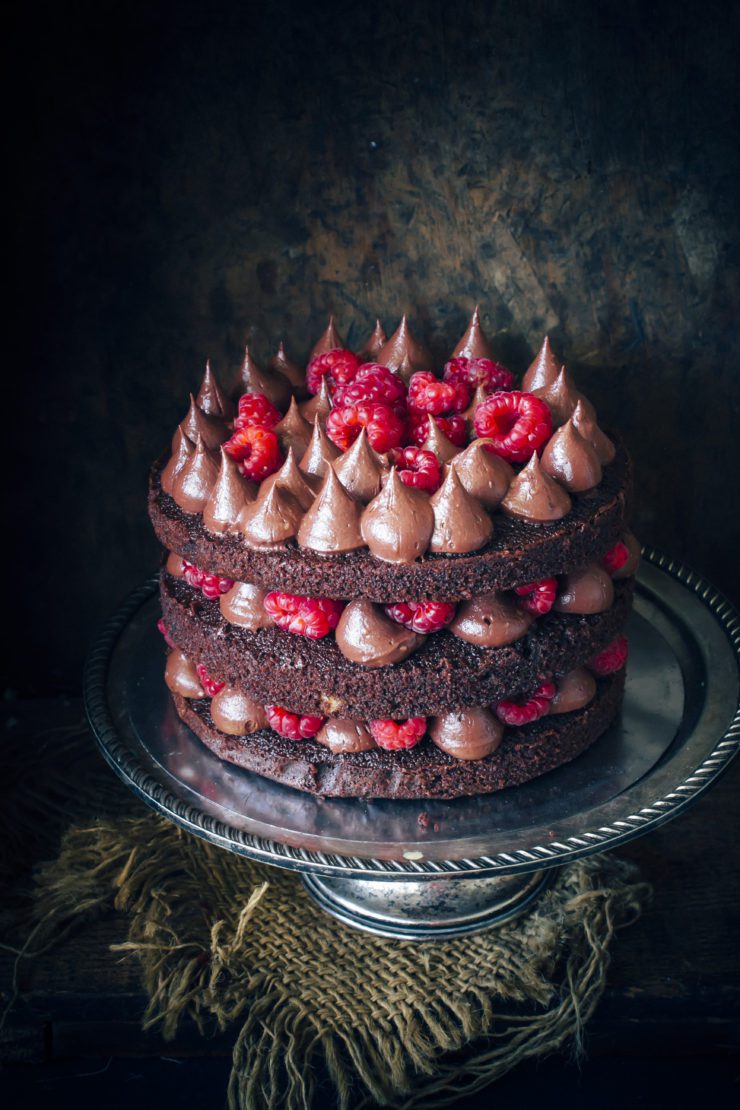 This is a cake that is moist, firm and very choclatey despite being made with a few pantry ingredients. The chocolate fudge buttercream is totally decadent and glossy just the way I like it. If I am after a chocolate orange cake, I add orange zest to the cake batter and the frosting. For a mocha cake, I would add a teaspoon of coffee and so on. Basically, it's a versatile and easy to make cake. I've made it in 3, 6 inch pans for this recipe but I've also made a single layer cake earlier using the same recipe. If you are not confident about your piping skills, spreading the frosting into rustic swirls looks equally amazing on this easy chocolate cake.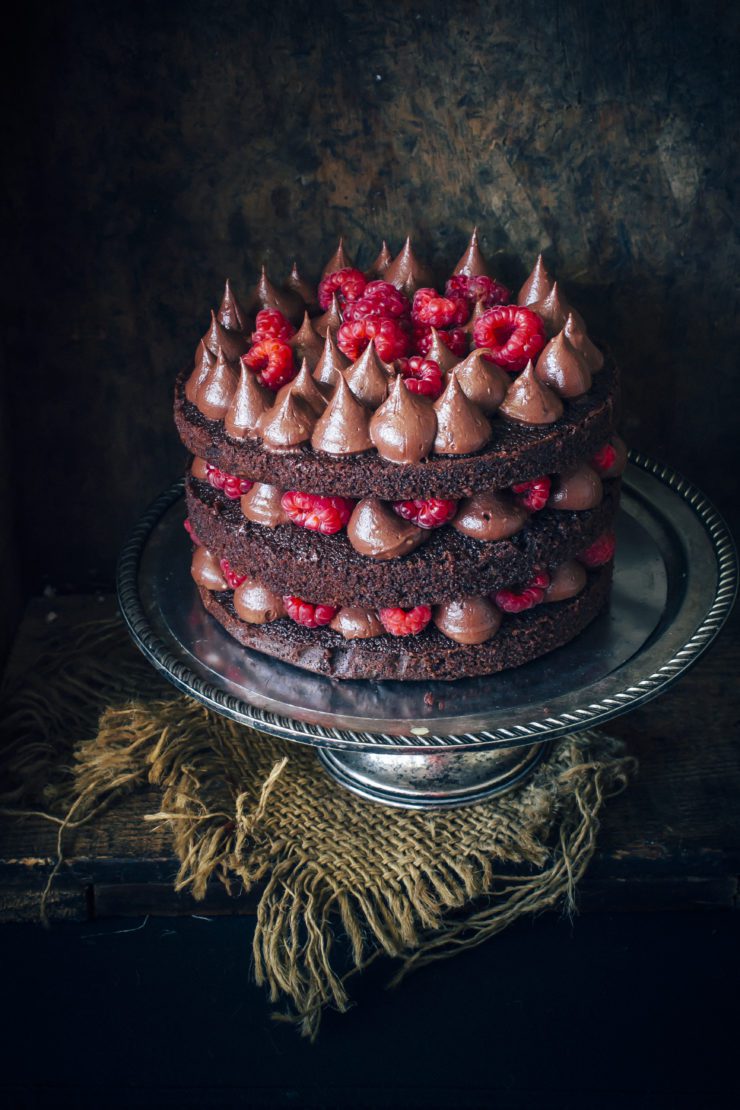 It's officially Autumn but there are no signs of it. We are a bit fed up with the consistent warm temperatures but I am equally glad that the summer produce hasn't left us yet. Hence the excuse to use up some beautiful raspberries for the cake.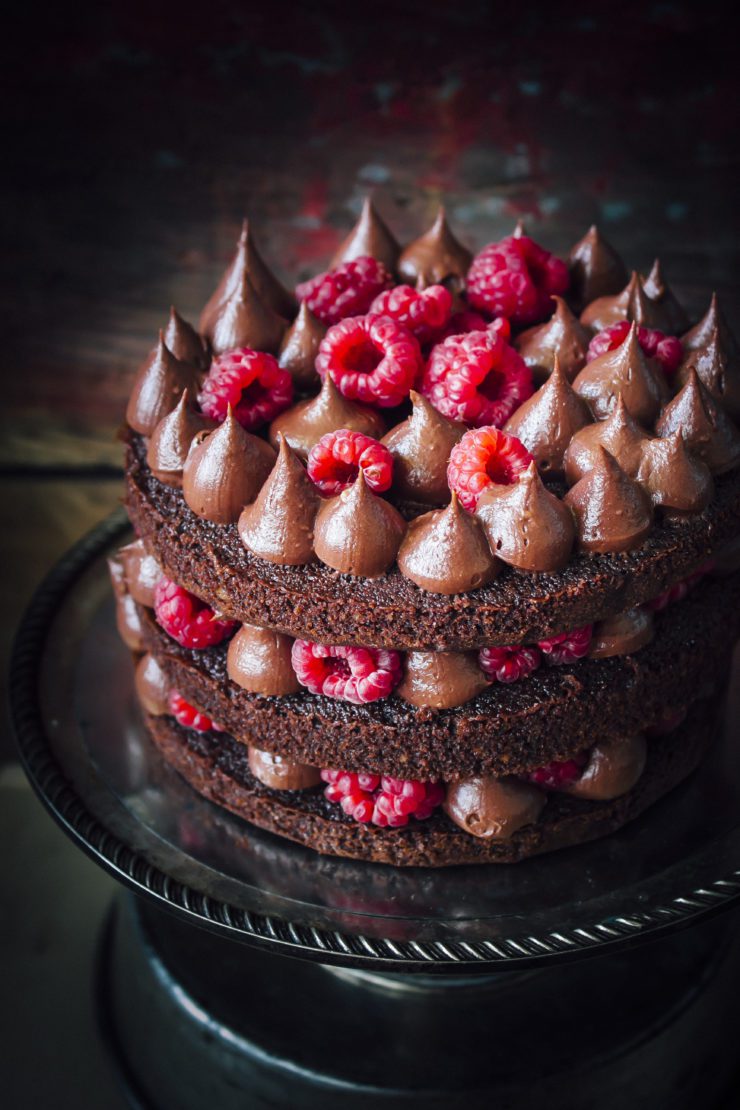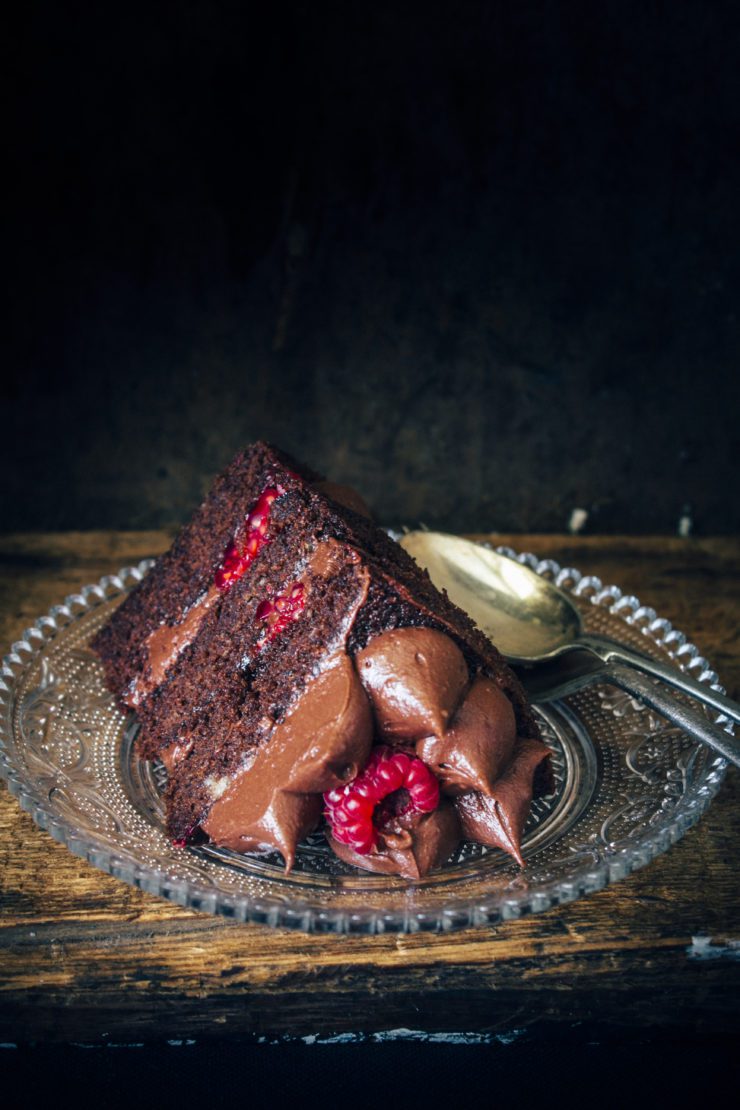 Easy Chocolate Cake With Raspberries
Makes a 6 inch, 3-layered round cake or an 8 inch single cake
1/2 cup cocoa
1/2 cup boiling water (125 ml)
125 g unsalted butter, softened
11/4 cup castor sugar
1 tsp vanilla essence

Preheat oven to 180 degrees C. Grease 3, 6 inch baking pans and line the bases with non-stick baking paper.
Mix the cocoa powder and boiling water form a smooth, thick paste. Leave aside.
Use an electric mixer or by hand,beat the butter, sugar and vanilla essence together for 1-2 minutes or until pale and fluffy. Add the eggs one at a time, beating well after each addition until combined,
Sift together the flours. Use a large metal spoon to fold the flours into the butter mixture alternately with the cocoa mixture, in 2 batches each, until well combined. Divide the mixture equally between the 3 prepared pans. Smoothen the surface with the back of the spoon.
Bake in preheated oven for 20-25 minutes or until a skewer inserted into the centre of the cake comes out clean. Stand for 3 minutes before turning out onto a wire rack to cool.
Once cooled completely, frost with chocolate fudge frosting, either by spreading the frosting with a spoon or piping it onto the cake layers. Decorate with fresh raspberries.
Chocolate Fudge Frosting
120 gms unsweetened chocolate, coarsely chopped
2/3 cup (150 gms) unsalted butter, room temperature
11/3 cups (160 gms) icing sugar sifted
11/2 tsp pure vanilla extract
Melt the chocolate in a heatproof bowl over a pot of simmering water. Remove from heat and let cool to room temperature.
In the bowl of your electric mixer, or with a hand mixer, beat the butter until smooth and creamy(about 1 min). Add the sugar and beat until it is light and fluffy(about 2 min). Beat in the vanilla extract. Add the chocolate and beat on low speed until incorporated. Increase the speed to medium-high and beat until frosting is smooth and glossy (about 2-3 min).