There was a time when I would buy a can of condensed milk only to dip my flat breads into. On Sundays when breakfasts could be a bit elaborate and I could stand in front of the sizzling frying pan, patiently turning flat breads one at time whilst simultaneously rolling out the next one, I would always make a few extras. Flat breads as you know are best served immediately. But I couldn't resist the idea of savoring them later with a few tablespoons of creamy condensed milk. Then I discovered Delce de Leche. After that, the only reason condensed milk came into my kitchen was to make Dulce de Leche. A simple process but time consuming and requiring  a fair amount of supervision. The taste was however so worth the effort that sometimes I would make the flat breads only to finish up the Dulce de Leche. After that, I discovered Caramel Top n Fill and that was the end of my Dulce de Leche making. The thick, rich caramel sauce is so similar in taste to Dulce de Leche minus the effort to  make it. My flat breads found a new partner. Nope! This is not a sponsored post. I am sharing this because I figured out another favorite way of eating it. In this cheesecake.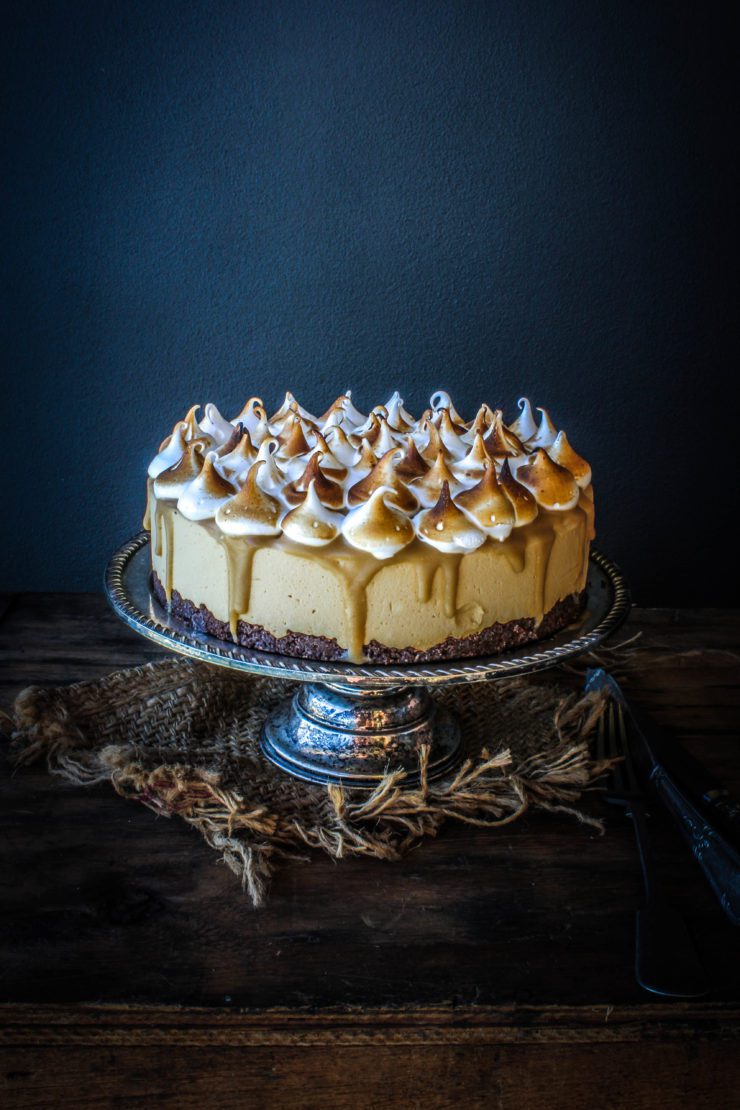 During summer this year, I discovered the convenience, ease and delightful taste of an ice cream cheesecake that I shared with you here and here. I was thinking of make-ahead recipes for Mother's Day that would involve ice-cream and I hit upon this idea. The fact that there is no use of gelatine or no need to whip up heavy cream gives me all the more reasons to make it. It's as simple as opening a few containers, placing them together, mix, fold and place it in the freezer. I made this a couple of days before Mother's Day because I knew I would be busy. After lunch, I served it to the boys who wanted to eat the entire cake.
If you do not want to use Caramel Top n Fill or do not have access to it, any thick caramel sauce would work. A thinner consistency may thin down the cheesecake mix that will melt faster when you leave the ice cream cheesecake at room temperature. To top the cheesecake, I have used salted butterscotch sauce and torched meringue. You can skip this if you find it difficult to make, and just drizzle with chocolate sauce or decorate with shaved dark chocolate.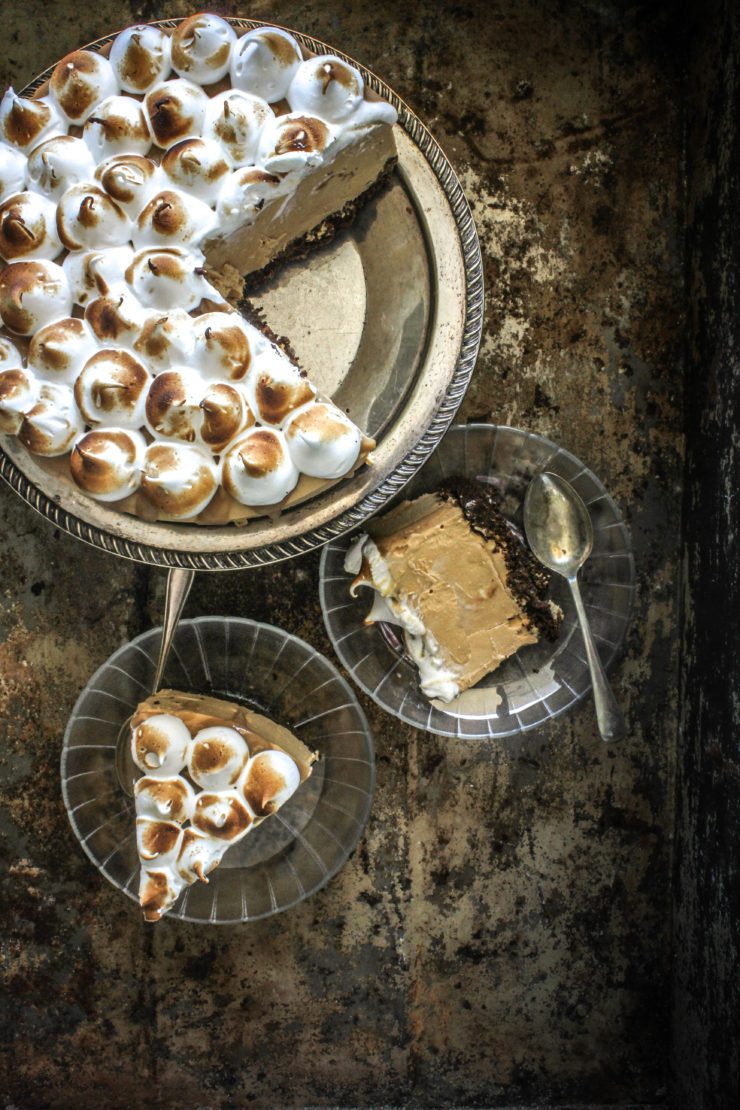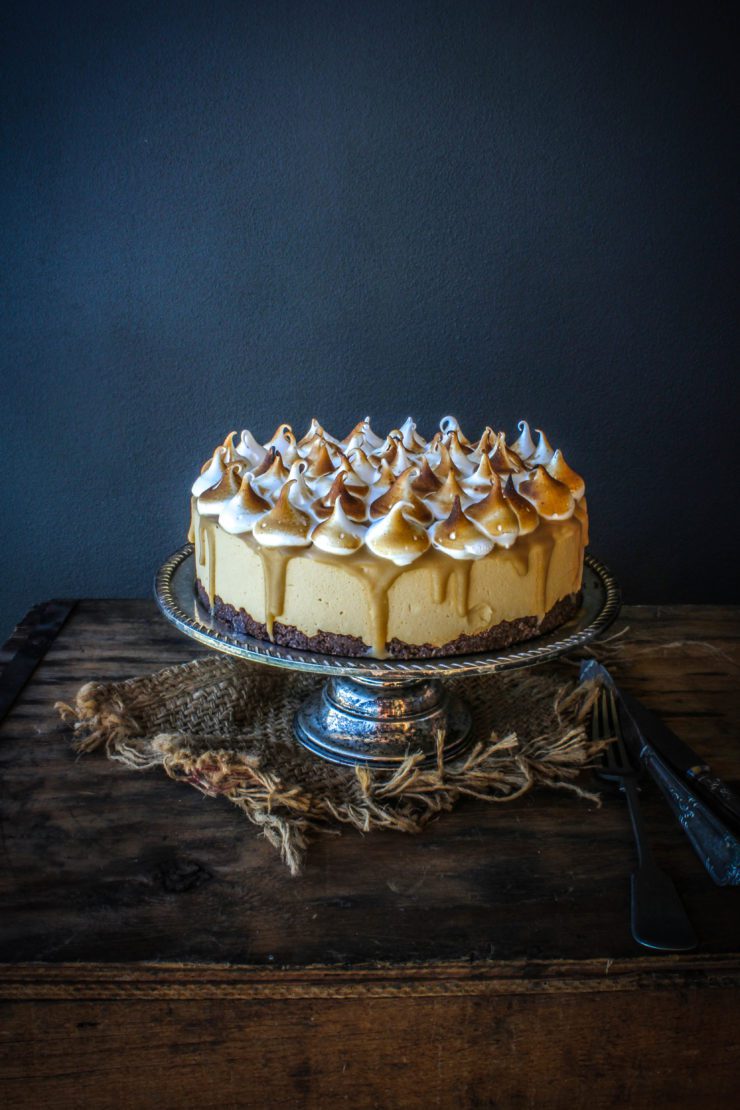 Caramel Ice Cream Cheesecake With Salted Butterscotch Sauce And Meringue
Serves 6-8
180 g chocolate cookies
75 g unsalted butter, melted
500 g cream cheese, room temperature
500 ml vanilla ice-cream, softened (I used store bought)
380 g can caramel top n fill
Line the base of a 19 cm round Spring-form pan with baking paper.
Place the cookies in a food processor. Process until fine crumbs. Add melted butter and mix to combine. Alternatively, you could crush the biscuits with a rolling pin inside a zip-lock bag. Using your fingertips, press biscuit mixture over base of prepared pan. Place in the freezer for 30 minutes or until required.
Meanwhile, beat the cream cheese in a large bowl (with a mixer or a whisk) until light and fluffy. Add the ice cream and mix well. Gently fold in the caramel top n fill. Pour over the prepared crust. Freeze for at least 6 hours (preferably overnight)or until firm. Remove from freezer 10 minutes before serving.
Before serving, drizzle with salted butterscotch sauce and pipe the meringue. Brown the meringue with a blow torch.
Salted Butterscotch Sauce
25 g salted butter
1/2 cup brown sugar
1/2 cup thickened/heavy cream
1/8 spoon sea salt
For the butterscotch sauce combine butter, sugar, cream and salt in a saucepan over low heat until butter melts and sugar dissolves. Bring sauce to a boil, reduce heat and cook for 5-6 minutes or until sauce thickens slightly.  Cool to room temperature. Pour over caramel ice cream cheesecake.
Meringue
2 egg whites, room temperature
1/2 cup castor sugar
cream of tartar, a pinch (optional)
To make the meringue, place the egg-whites, sugar and cream of tartar in a heatproof bowl that is placed over a saucepan of simmering water. Whisk continuously till the sugar dissolves (about 2-3 minutes). Remove from heat and whip up the mixture with a electric or hand mixer to stiff peaks.
Fill up a piping bag with a round nozzle and pipe meringue kisses on top of the cake. Using a blow torch, brown the meringue.