It is absolutely no secret how much I love rosewater. If there is one ingredient, I am madly in love with it is rosewater. Yes, even over chocolate! Though I am fully aware, there are some people who are not fond of it and find it overpowering. Actually the secret is in using the correct proportion. A teaspoon or half a teaspoon depending in your dessert can be mild yet so fragrant and magical. This rosewater cake is just amazing!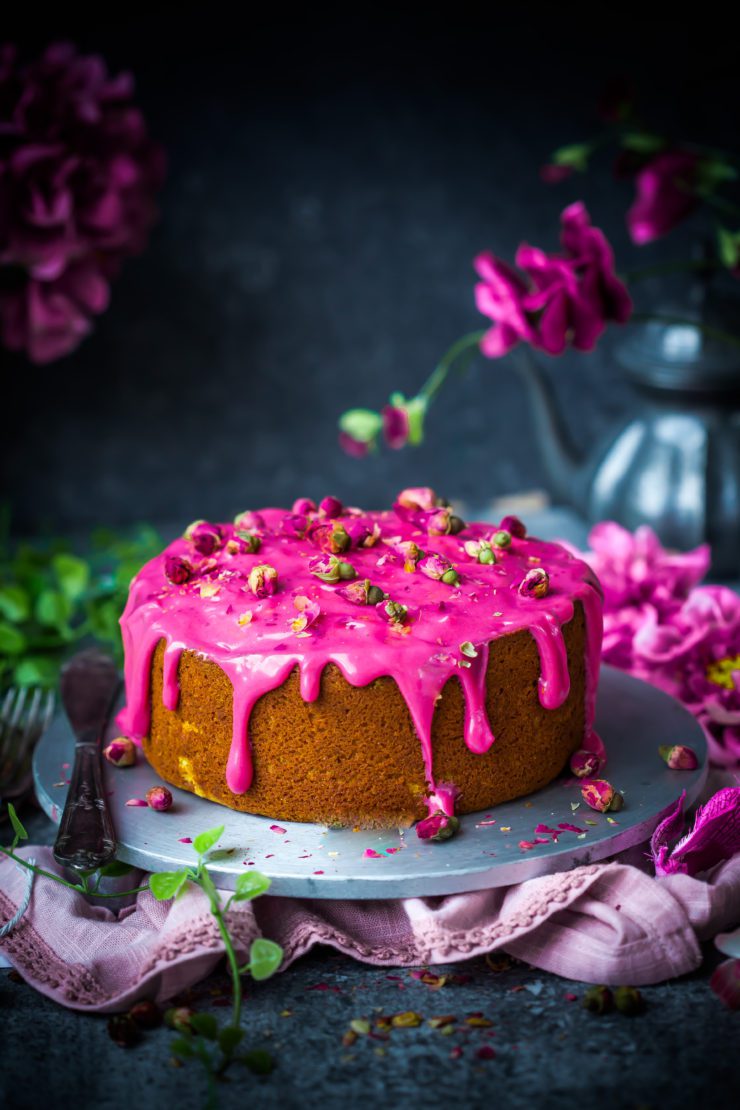 This cake has all the great things. A fantastic texture on account of the coconut and a mild taste of roses. Elevating it further is the sour cream-rosewater glaze. To be honest, a sour cream glaze alone is just amazing for any cake or dessert. It is my go- to glaze for these one bowl, one layer sort of cakes. Keeps things simple yet delicious. Adding a teeny bit of rosewater makes it all the more irresistible.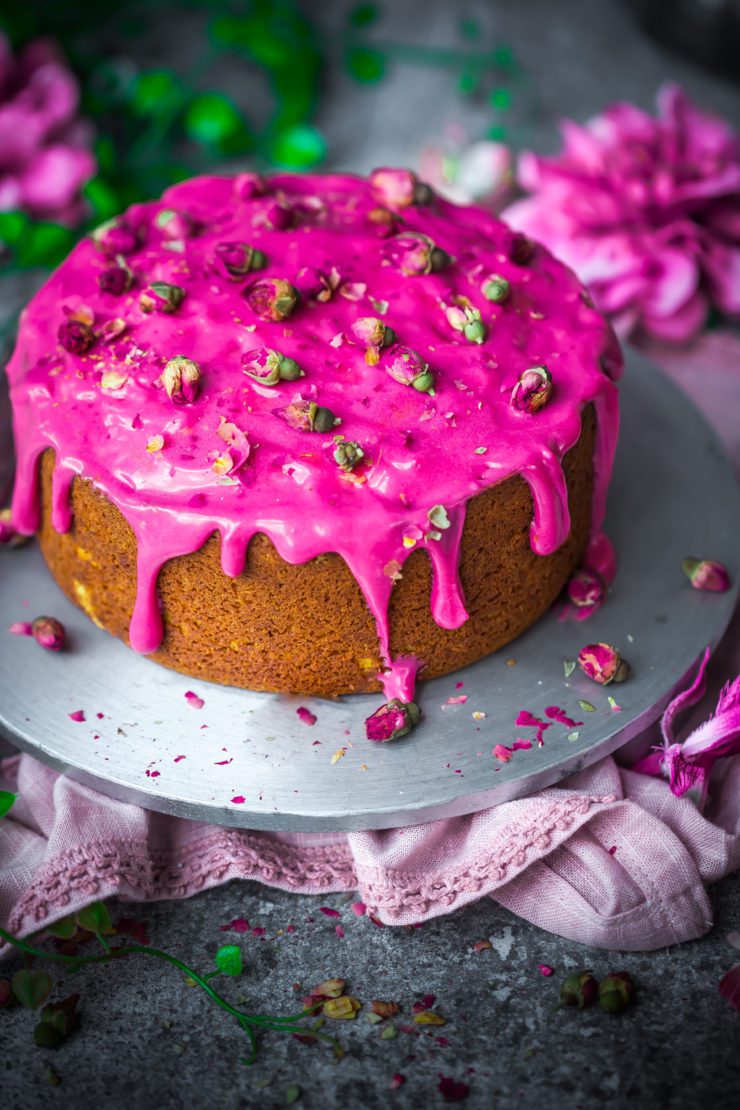 Rosewater, edible rose petals and rosebuds are easily available online these days. Or you could get them in cake decorating stores or Middle Eastern and Indian stores.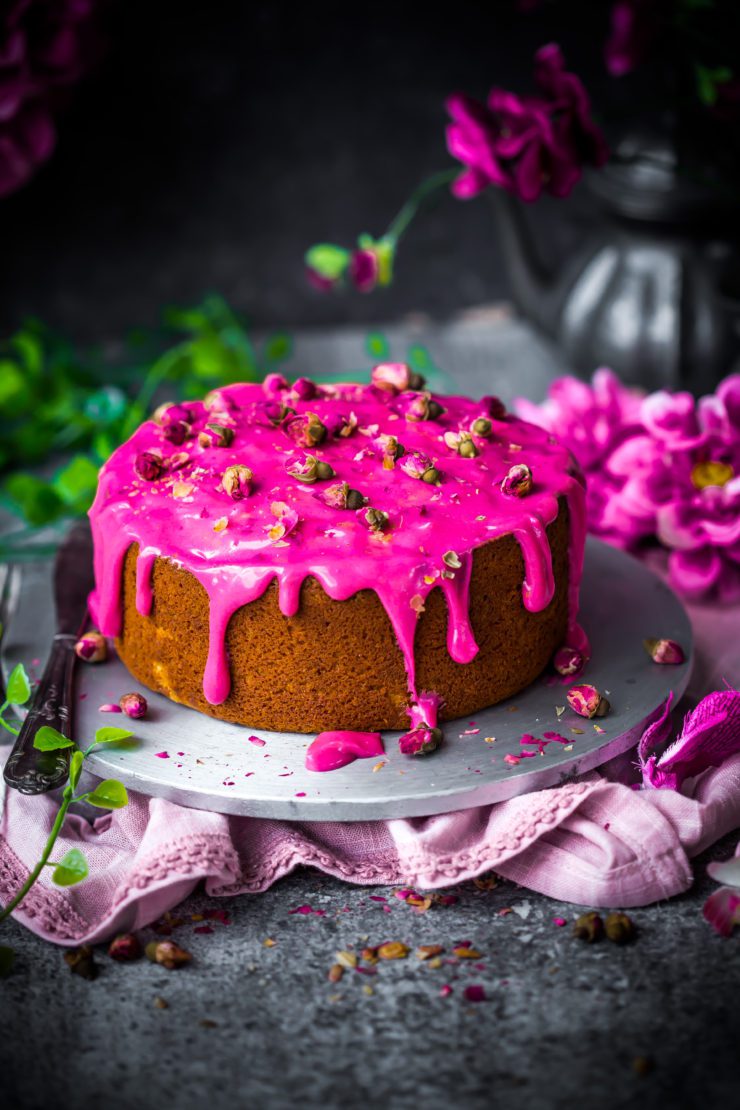 If you like rosewater, you could check out my Rosewater and Semolina Cake here and Honey-Poppy seed Cake with Rose Buttercream here.
Rosewater and Coconut Cake
Makes a 6 inch round cake
180 g unsalted butter, softened
1 cup castor sugar
3 eggs
1 and 1/2 cup self raising flour
3/4 cup desiccated coconut
1 cup Greek yogurt
1 tsp Rosewater
For the glaze
1/2 cup sour cream
1 cup icing sugar
1/4 tsp rosewater
Pink food colour
Preheat oven to 180 degrees C (160 degrees C for fan forced ovens). Grease the base and sides of a 6 inch round baking pan and line the base with baking paper.
In a large bowl beat together butter and sugar until pale and fluffy. Add the eggs, one at a time until well combined. Add the flour, coconut, yoghurt and rosewater. Beat until smooth.
Pour into prepared pan. Bake in the oven for 50-60 mins or until a skewer inserted in the middle comes out clean. Remove from oven, leave aside for 5 mins. Then gently turn onto a wire rack to cool completely. When cool, ice with sour cream glaze. Decorate with edible rose petals and rose buds. Enjoy!
To make the glaze, combine sour cream, icing sugar, rosewater and pink food colour in a cup or bowl. Stir until smooth.